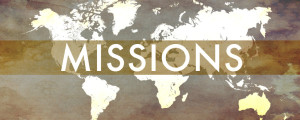 The Vermontville Bible Church missions program exists to glorify God by fulfilling the great commission to make disciples of Jesus Christ in all the world. We currently support 20 Missionary families serving in 16 different Mission Organizations and 13 different countries around the world..
The purpose of the Vermontville Bible Church Missions Program is to fulfill the Great Commission to give every person the opportunity to hear and respond to the Good News of the Gospel of Christ, and to grow to spiritual maturity. Our motto is "To make Christ known worldwide!" We will seek to accomplish this task through the education and encouragement of our church family to become involved in missions.
Our Missions Committee will seek to inform our church family regarding the current situation in world missions, through visiting missionaries, an annual mission's conference, bulletin boards, sermons, Sunday school classes, etc. In addition, the Missions Committee will seek to inspire members of the congregation to become involved in world missions, through prayer, sacrificial giving, and going to the missions field, both short term and full time.
For the safety of some of our missionaries, please ask the church office for individual missionary information.