Pastor Joe Benedict- Head Pastor
Joe and Brittany met right here in their home church of Vermontville Bible. Both sat under the faithful teaching of the Scriptures. They graduated from Maple Valley Schools. Joe grew up North of Vermontville on Round Lake Road where his parents Brian and Lorraine Benedict still reside at the family Maple Syrup Business. He has four brothers serving the Lord all over the world. Brittany grew up across the community South of Nashville. Her parents Doug and Louisa Westendorp, 4 brothers, and 1 sister, are all serving on the family Dairy farm and Creamery, Mooville.
Brittany and Joe were married on July 29

th

, 2011. Before marriage Brittany went to Frontier School of the Bible for a semester desiring formal training in the general knowledge of Scripture. After the wedding they traveled hand in hand to the wild West to attend Frontier School of the Bible in LaGrange, Wyoming. Joe received a Bachelor of Arts in Biblical Studies and Pastoral Ministry. While at Frontier Joe was blessed to be an interim pastor for six months with an RHMA church in Crawford, Nebraska.
Joe and Brittany were blessed with four sweet children Jonah (2013), Claire (2014), Myrie (2016), and Preston (2017). Throughout the years at Frontier, Joe and Brittany felt a strong call to return to their home church. After two summers of internships with Pastor Daniel E. Smith, Joe fulfilled a year internship in 2014-15 as required by Frontier. On February 22

nd

, 2015 he was ordained to the work of the Gospel Ministry. In May of 2015 He was called as Assistant/Family Pastor to minister here at VBC. On December 11th, 2016 He was voted in as the Head Pastor of Vermontville Bible Church.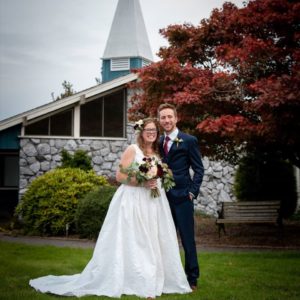 Pastor Nate Otto- Intern Pastor
Nate and Meghan met at Frontier School of the Bible in La Grange, WY. Nate grew up in the Grand Rapids area and has 2 older sisters who live in Missouri and Minnesota. Meghan grew up all the way on the other side of the country in Washington State. She has 6 younger siblings, 4 brothers and 2 sisters.
Nate and Meghan both started attending Frontier School of the Bible in 2016, looking to grow in their faith and learn more about God's Word. While at Frontier, Nate was given the opportunity to use what he'd been learning in school by preaching at his church in WY. As graduation drew closer, he started pursuing the possibility of a 4th year pastoral internship.
Nate graduated with an Associate of Arts in Biblical Studies and Pastoral Ministry and Meghan graduated with an Associate of Arts in Biblical Studies and Missions in May of 2019.
Nate came to Vermontville Bible Church in August of 2019 and Meghan followed him after their wedding on October 12, 2019.