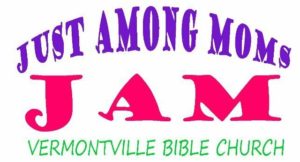 This ministry is for all moms with children,
I
nfant through Kindergarten age.
Join us for a morning of rest, instruction,
JAM is a place for you to make new friends, share experiences, laugh, and express creativity through various activities. It is also where we draw upon Biblical principles pertaining to womanhood, marriage and parenting.
All mothers of pre-schoolers are invited to join us
for
a blessed morning including an encouraging
speaker,
small group discussion and craft.
Childcare is provided by our nursery staff.
We hold our JAM meetings every third Tuesday morning
of the month, September thru May, from 9:00-11:30am.